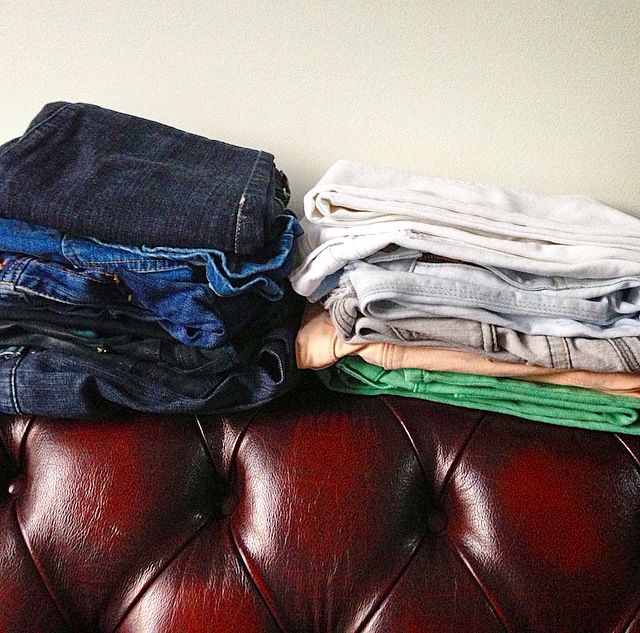 Last week I read an article detailing the decline of denim sales (six percent decrease of global sales year over year), and that
denim could shockingly be in danger of going out of fashion
. How is it, that such a utilitarian staple which has withstood the test of time and multiple fashion cycles, be losing it's popularity? As an avid wearer of denim (it's practically my uniform!), I find this incredibly hard to believe.
While well-worn jeans has always been the epitome of comfort and casual wear (think of all those times you weren't allowed into a restaurant because you were wearing jeans), the sport luxe trend has become a strong contender. With celebrities and supermodels leaving gyms in tracksuits and yoga attire, it has become modus operandi to grab lunch, run errands, and hang out decked top-to-toe in
T by Alexander Wang
.
According to Marshall Cohen, chief industry analyst of
The NPD Group
, a leading consumer trends analyst and market research group said:
Six percent might not seem like much, but it's rare of denim to take such a dramatic drop. Since denim is a commodity business, we buy and replenish it constantly.
I feel the death of denim is greatly exaggerated, and denim retailers shouldn't be so quick to get their panties in a twist. Denim isn't exactly the most delicate of materials. A well-made pair of jeans could probably last you a lifetime, granted you stay the same size. The wash might fade, holes and patches might appear, a rivet might even fall off--but this just adds to the denim's character! I couldn't agree more that denim is a commodity but not at the same scale of rice or sugar. You won't be buying a new one to replace your own pair every other week. A denim collection is built over time, and it's hard work finding the best fit and washes that suit you.
Sure, sales of denim might have fallen. But this to me is indicative of the massive number of denim wearers--so many that even though a sizable minority have ceased wearing jeans--has caused an inconsequential dip in denim's pervasiveness. Denim is hardly going to be exorcised from closets worldwide. While I can't deny the comfort of yoga pants, nothing beats the chic look of classic black stovepipes, paired with an oversized, crisp white shirt.
P.S.: I have just exercised my solidarity for denim by purchasing some Levi's 501s, which are currently a plane ride away. Will you show your support and buy a pair too?